Laporte® DTL Traps
LAPORTE® DTL traps built of the same quality and throwing accuracy as the Laporte® Olympics traps.
We have developed a horizontal oscillating base made of 100% zinc coated steel. The trap is fully adjustable to meet regulations for both the CPSA and ATA rules ensuring exacting and precise targets satisfying all your shooters expectations!
Capacity
Up to 600 targets (18 columns)
Horizontal Movement
9 angles : 23° to 77°
Lifetime Warranty
Wear-resistant metal launching arm
Rustproof Throwing Plate
For a long lasting use
TURBO System:
Instant release with patented ATRDI
No rust on base
100% zinc coated steel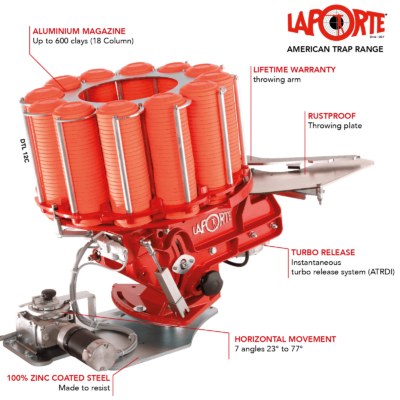 Don't find what you're looking for? Feel free to contact us...
DTL (Down-the-line) popular in Australia, New Zealand, South Africa, Zimbabwe, Canada, France, the United Kingdom, and Ireland.
The traditional DTL shooting layout consists of 5 stands in a crescent shape 16 yards from the trap house from which a random target is launched.  The oscillating trap launches a random target set between 0 and 22.5 degrees to either side of a centre post between, 50–55 yards from the trap house. The clay should always be of a consistent height although it is variable for the horizontal angles. The average speed of the target upon release is usually 42mph +/- 1mph.