Laporte® Skeet Traps
Skeet is one of the two major disciplines of competitive clay pigeon shooting.
Skeet imposes very strict specifications on the machines.
9 times selected for the Olympic competition, LAPORTE® used its Olympic experience to develop the latest SKEET Precision machines.
LESS THAN 1% NO-BIRD
0.027% at NSSA 2018 World Skeet Championship
ANTI-VIBRATION Throwing arm system
maintains regular flight over long distances
NEW THROWING PLATE
Longer high-performance throwing plate
TURBO RELEASE
Instantaneous turbo release system (ATRDI) Patented by Laporte®
12V ARMING MOTOR 4 BRUSHES
Low consumption & longer service life
REINFORCED BASE
To improve global stability
WINDAGE ADJUSTMENT
Hub with setting locking system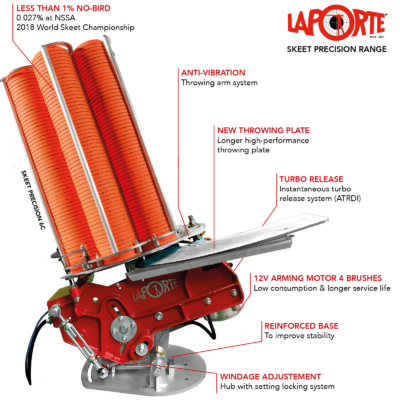 Don't find what you're looking for? Feel free to contact us...