Laporte® American Traps (ATA)
American trap is popular throughout the United States is quite possibly the most popular form of clay pigeon shooting in North America.
Laporte's American Trap is mounted on a low base and is equipped with our latest technology such as:  the three-point clay holding system and the instant turbo release system. The aluminium magazine can hold up to 400 clays.  This trap offers the same reliability and build quality that Laporte® has come to be known for worldwide
Capacity
Up to 400 targets
Horizontal Movement
9 Positions from 27° to 90°
Vertical Movement
Maximum 35°
Anti-Vibration throwing arm
Patented system
TURBO System:
Instant release with patented ATRDI
4 Brushes motor
Low consumption, longer service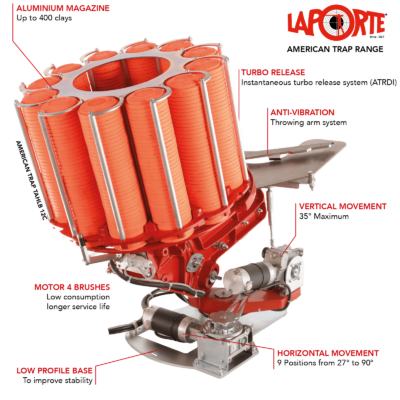 Don't find what you're looking for? Feel free to contact us...