Our standard & flash targets
Find the emblematic targets of the LAPORTE brand
LAPORTE® Grand Prix
The most innovative concept
Developed by our engineers for shooters to use during their training in any discipline. After extensive trials and in-depth research our clays meet all criteria for quality and reliability which makes Laporte® Company world renowned since 1927.LEAD CATCHER this worldwide exclusive design of our "Grand Prix" target was created by Laporte® to guarantee perfect breakability of the target on the very first impact. This design prevents any rebound or slippage of the target upon projectile.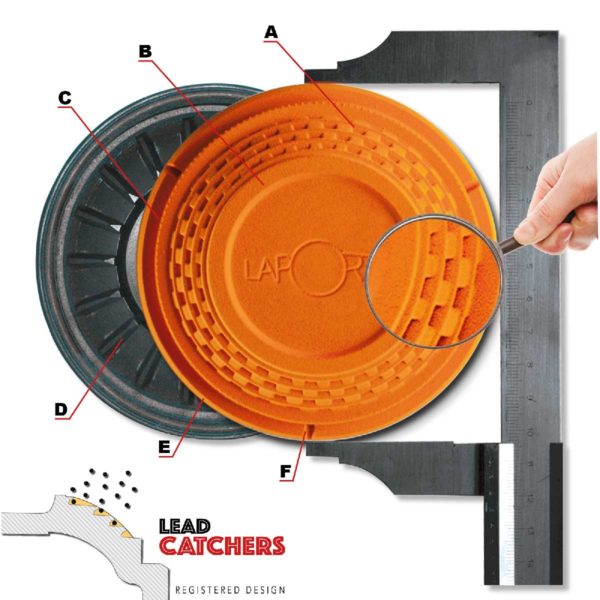 A) DIMPLE DESIGN
Studied by German engineers, the numerous square indentations are real lead "catchers" that avoid ricochet and considerably increase the breakability of the clay.

B) DOME PROFILE
For a more aerodynamic profile.

C) DRIVING BAND WITH MORE RIDGES
For maximum rotation, excellent stability in flight and long distance (>100m).

D) INTERIOR GROOVES
To increase breakability and improve scores.

E) CHAMFERED EDGE
To avoid adjustment of the clay separator on machines – Results in less no-birds.

E) WEATHER GROOVES
To prevent clays from sticking in damp conditions.
FLASH® EFFECT! With our perfectly balanced mixture, our resin clays smoke on impact creating our famous Flash effect! Petroleum resin RP provides the same effect.
Our clays are available in RP RESIN (Petroleum Resin) – ECO RESIN also named Ecobird (LOW PAH) or NATURAL RESIN (ZERO PAH)
Our products standard and flash