Laporte® Trench Traps
9 times selected for the Olympic, Laporte® Trench Traps are a blend of modernity and high-performance. This is a direct result of the experience and knowledge of the brand Laporte.
The trap starts instantly and launches the target quickly thanks to a newly patented trigger system. This is without electronics or electromagnets. It offers a fast start, is extremely precise and has consistent trajectories for a range of 100 meters.
Our Trench traps are made with sturdy materials for unsurpassed reliability.
LIFETIME WARRANTY
unbreakable throwing arm
RUSTPROOF THROWING PLATE
Longer high-performance throwing plate
ONE WAY BEARING
Made to resist and protect
TURBO RELEASE
Instantaneous turbo release system (ATRDI) Patented by Laporte®
12V ARMING MOTOR 4 BRUSHES
Low consumption & longer service life
GRADUATED BASE
To make adjustment easier
INTEGRATED
Electro-mechanical card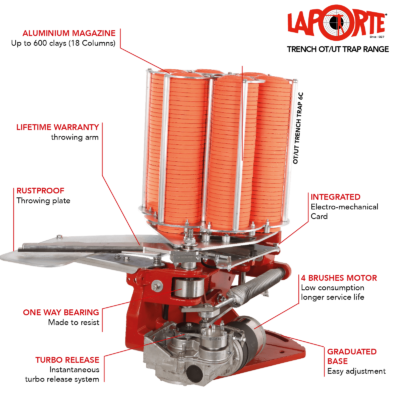 Don't find what you're looking for? Feel free to contact us...
Don't find what you're looking for? Feel free to contact us...
Referred to as Olympic Trap, Olympic Bunker or Olympic Trench, this international discipline incorporates fifteen machines. Targets have a minimum height of 1.5 meters and a maximum height of 3.5 meters as measured 10 meters in front of the bunker. Targets are thrown up to 110 mph depending on the target height to achieve the variable distance of 70 to 75 meters as required. The maximum target angle is 45 degrees. There are nine set programs for the fifteen traps that are used in all countries throughout the world. A squad of six shooters each take their turn shooting from five stations. Shooters move to the next station after each target in a shoot-and-move rotation. The shooting stations are located in a straight line. On the call "pull" (phono-pull release system is utilised to ensure equitable target releases), a clay is thrown from one of three fixed traps directly in front of each of five shooters. Two shots may be used for each target with no penalty in scoring. Each shooter gets two lefts, two rights, and one straightaway target from each station. Shot charge is restricted to 24 Grams (approx. 7/8 oz.) using any safe powder charge (plated shot is allowed). Also, the Olympic target is slightly smaller than the standard American trap target.
Universal Trench is a discipline of International trapshooting also referred to as "Five Trap"; it is a variation of Olympic Trap using only five machines. Squads of six take turns shooting from each of five stations. UT is very similar to Olympic Trap in the speeds, heights and angles of targets. Trap position sequences for a round of 25, though predetermined, are unknown to the squad. Each squad member is allowed two shots at each target, with no penalty in scoring. Computer and phono-pull system for target selection are the same as in Olympic Trap.
The advantages of a 12V power supply with Olympic Trench
3 Batteries and 3 Chargers
Each battery has the capability to launch a minimum of 5000 clays.  With the three batteries (3×5000 clays) the trench layout can launch targets over a 2 day period without any electrical supply.  Utilising batteries enables the layout to incorporate a smaller diameter of power supply cable because of reduced power consumption.
Traps, when powered by three batteries (in parallel), the electrical supply is  identical from the machine to machine ensuring the speed of launch is identical throughout the layout.
Batteries also provide the additional advantages over electrical supply where inconsistent power, or power surges can occur and therefore, further reduce the risk of damages to motors, relays and electromagnets.