SPORTING AND COMPAK
Choosing the Right Trap Has Never Been This Easy with Laporte®
Laporte® Sporting & Compak Traps
In order to meet the ever increasing demands for targets and to also offer a variety of trajectories patterns our teams have developed the
LAPORTE® 185 PC range
of launchers.
The Laporte® PC Range
of machines are designed for both Sporting as well as Compak disciplines and are 
compact and lightweight
making them easy to move and set up on your grounds or fields.
The
adjustable base
features a wide variety of angle adjustments in order to set the most beautiful of trajectories..
The sturdiness
& durability of our machines ensures, even under the most extreme weather conditions,  you have a fully operational machine – no matter the climate!
NO RUST:
Aluminium construction with epoxy coating.
FEWER BREAKDOWNS:
Waterproof release cable (50m) and first class terminal plugs.
NO MAINTENANCE:
Nickel plated steel anti-corrosion throwing plate.
INCREASED SHOOTING RHYTHM:
up to 1.8 second re-arming time.
LIGHTWEIGHT:
Aluminium alloy construction.
ADJUSTABLE Pro Base and spring :
with a single 19mm wrench
LOW VOLTAGE and REVERSE POLARITY PROTECTION ;
thanks to an efficient electronic card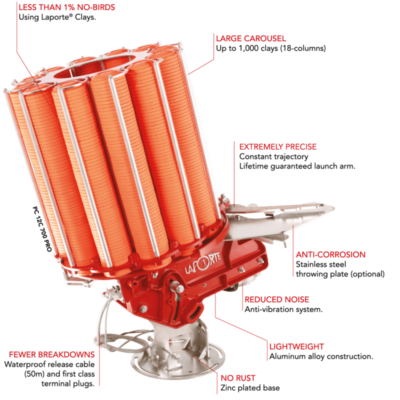 Don't find what you're looking for? Feel free to contact us...